INTRINSIC Teaching Approach
What is sustainable entrepreneurship, that we are aiming to educate for?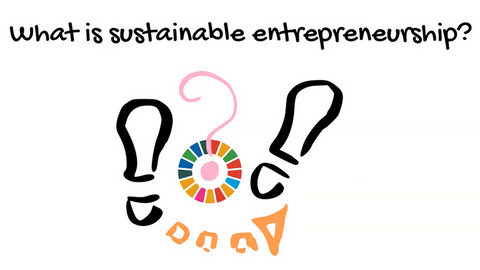 Sustainable entrepreneurship can be seen as activities, where people with an entrepreneurial mindset engage in identifying, evaluating, developing and implementing ideas, projects, innovations etc. that lead to sustainable development. In the case of INTRINSIC an additional strong focus is on the SDGs. Sustainable entrepreneurship activities in general can be structured along two levels – a basic one and a strong one.
In its basic form sustainable entrepreneurship is entrepreneurial activity considering economic, psychological, social, and environmental consequences and by this is not undermining the ecological, social and economic environments in which they operate.
In its more expressed form sustainable entrepreneurship is aiming at solving problems related to sustainability and to create social, environmental and economic sustainability as a strategic objective and purpose by the discovery, creation, and exploitation of entrepreneurial opportunities that contribute to sustainability by generating social, environmental and economic gains for others in society.
Why?
As a basis for a common vision,
INTRINSIC applies the three horizon-model
of
Sharpe et al. (2016)
to the idea of sustainable entrepreneurship with a clear focus on the
sustainable development goals (SDGs)
.
The
three horizons-model
(see the image below, source: International Futures Forum -
iffpraxis.com
and H3Uni -
H3Uni.org
, CC BY-NC-ND) i
s a simple and intuitive tool for thinking about the future
. It helps to explore systemic patterns which are no longer fit for purpose, but also how emerging trends can be explored to achieve a viable future. According to the three horizons-model this future can be perceived through three lenses:
Horizon 1: Continue Business as Usual
Horizon 3: Vision of a Viable Future
Horizon 2: Innovation towards the Vision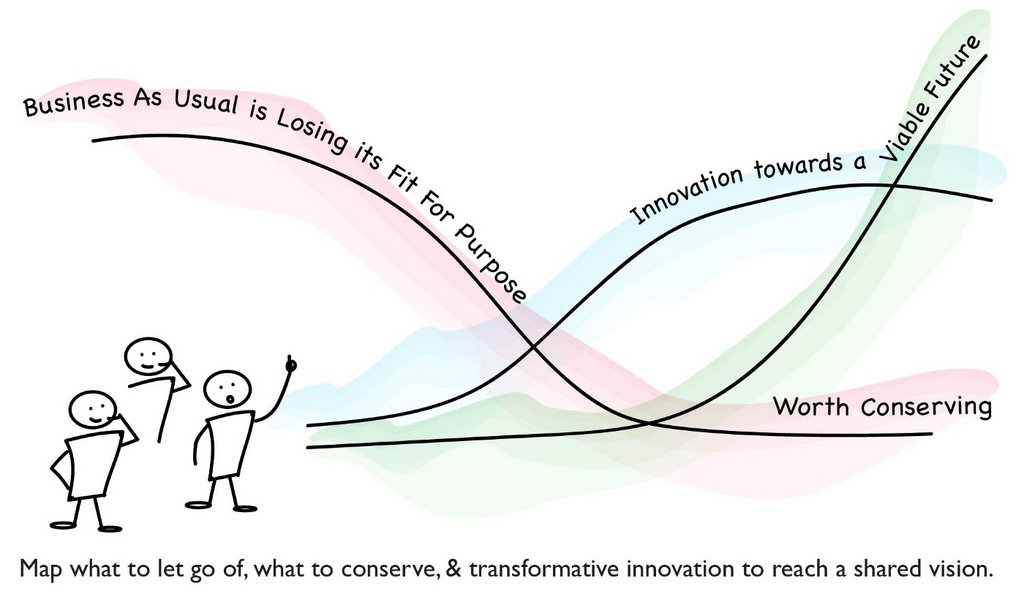 For Whom?
INTRINSIC's goal is to empower Life Science Teachers to stimulate the development of a sustainable entrepreneurial mindset in their students, that motivates and enables them to
contribute towards the vision (the SDGs) at horizon 3

by

ideas, projects, innovations etc. in horizon 2

- by at the same time

avoiding non-sustainable innovations

that might

contribute to destructive business as usual – horizon 1 activities

.
What?
To
educate
Life Science students
towards a sustainable entrepreneurial mindset,
which
empowers
them
to contribute to the

third horizon
, where the
SDGs
can be situated
as a global shared vision of a liveable future
, means to
equip them with a set of core competences
needed, that involve competences for
interpersonal interaction,
for embracing diversity and interdisciplinary,
for systems thinking,
for strategic action,
for normative judgement and
for foresighted thinking (Ploum et al. 2018).
It is commonly agreed that equipping students with these skills also may contribute to their successful and satisfying career paths in a much broader sense!
Furthermore,
all INTRINSIC teaching activities
are
centered around

two main concepts
:
the active identification of an idea, opportunity and development of an artefact (idea, mashup, prototype etc.), and
collaboration/interaction/exchange between students, teachers and potential stakeholders
How?