INTRINSIC Teaching Model
The INTRINSIC Sustainable Entrepreneurship Teaching Model
You could either follow the stepwise approach below, or quickly move to the circular teaching model of INTRINSIC without further explanation!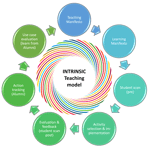 Link to the circular INTRINSIC Teaching Model
1. In a first step you are invited to reflect on your own authentic philosophical disposition to teaching and develop your own Sustainable Entrepreneurship Teaching Manifesto (inspired by Colin Jones' book: How to Teach Entrepreneurship)…in the form of:
2. In a second step

, and as a starting point for involving your students in sustainable entrepreneurship
, you could use our
3. If you would like to get an initial idea on the entrepreneurial aspirations of your students, in a third step
4. In the fourth step,
w
hen you have reflected on your own personal and authentic disposition to teaching, and got an initial insight in your students` entrepreneurial aspirations,
5.
After the teaching activity,
6. Sixth

, our
INTRINSIC Life Science Sustainable Action Tracking Tool
allows either
7.
The
INTRINSIC Life Science Sustainable Entrepreneurship Action Cases
are provided as
Optional:
As
we are interested in
learning about the entrepreneurial mindset of higher education teachers
across
European Life Science Universities
,