Kick-Off 19.11.-20.11.2018 in Vienna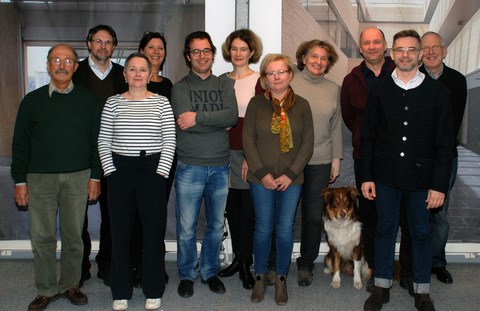 From 19.11.-20.11.2018 the Kick-Off Meeting of the INTRINSIC project (INnovative educaTion foR sustaInable eNtrepreneurShip In Life sCiences) took place at the BOKU.
Within an Erasmus+ strategic partnership, BOKU works together with 7 higher education institutions and ICA, the Association for European Life Science Universities as partners, to develop innovative teaching and learning resources to systematically foster the "entrepreneurial mindset", skills and abilities of students at Life Science Universities in relation to Sustainable Entrepreneurship. Reference is also made to the Sustainable Development Goals (SGDs) as overarching framework.
An open interactive e-platform and a mobile application ("Connected Educator App") should enable interested instructors to network across all Life Science Universities in Europe. An important basis for the successful establishment of this network and also for the sustainable implementation and use of the project results are the long-standing international partnerships in the context of ICA and ICA Edu, with the latter being the existing Network for Innovation in Higher Education in Life Sciences.
In addition, INTRINSIC will focus on collecting good practice examples of Sustainable Entrepreneurship Education at European Life Science Universities, will develop an App to track student entrepreneurship, and an interactive tool to design teaching units for Sustainable Entrepreneurship in Life Sciences as well as a Train-the-Trainer module.
The Vice Rector for Teaching and Continuing Education Ao. Prof. DI Dr. Sabine Baumgartner opened the meeting and referred to the great importance of the project from a European perspective, emphasizing the benefits of the resources created in the project especially for the teachers at the participating partner institutions and beyond.
Interested teachers are cordially invited to contact the BOKU-corrdinator of the project DI Dr. Andreas Zitek, MSc (andreas.zitek (at) boku.ac.at) for further information.
The project is also supported by the BOKU Center for International Relations.
The main opics of the Kick-Off Meeting (1st transational project meeting) were:
Kick Off an organizational issues
Intellectual Output O1- Discussion of the design of the ePlatform and its modular elements, and Connected Entreprepreneur Educator APP, collaborative tests of the working prototypes of the modular elements, definition of the aspects for final implementation of O1;
O2 - setting the framework for the development of the Entrepreneur Monitoring APP.